---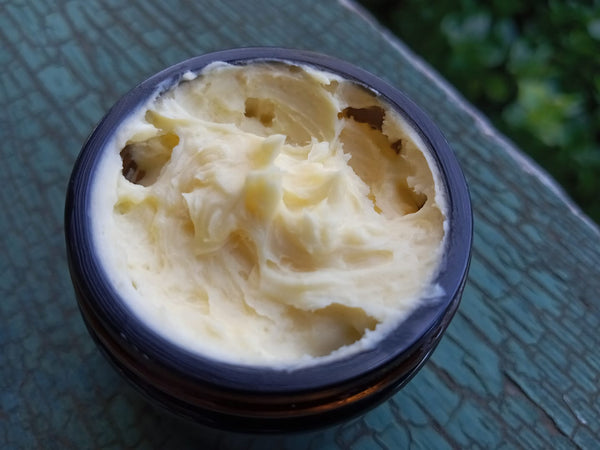 Sale
2 oz   
This multi-purpose cream is a deeply cooling combination that is dynamic for addressing--inflammation, muscle aches and strains, neuralgia, and arthritis. Beneficial for sunburns (or burns of any type), itching, eczema, and dermatitis. Excellent for cuts, wounds, sores and bruises, to stop infection, helping you not to scar and moves fluid.  Apply to neck, chest, hands and feet for deep restful sleep and to keep headaches at bay. Apply to the stomach and lower back in a clockwise motion, to aid in digestion, stomach upset, feelings of being over-full and flatulence. 
Not only for full body application but gentle enough for the face. This formula is deeply moisturizing without being greasy, reduces puffiness, dark circles under eyes, increases collagen synthesis, diminishes signs of aging, protects from UV light exposure, free radicals and creates a healthful glow! The scent is fresh cucumbers and summer.  

For a more in-depth understanding of how this cream works, see individual ingredients below:

Mango Butter Mangifera indica

Is high in caffeic acid and thusly provides powerful fungicide, antioxidant properties and helps protect cells from UV light exposure and free radicals. It also contains mangiferin (a polypheno) specific to mango that offer antioxidant, anti-fungal, and anti-inflammatory properties. It has a fair amount of natural and stable vitamin C, that increase collagen synthesis, aids in wound healing and diminishes signs of aging. Strengthens the skin's barrier function, maintaining moister levels and elasticity in skin and promotes the regeneration of skin cells.

Shea Butter Vitellaria paradoxa
Used traditionally for muscle aches, strains, arthritis, dryness including cracks in skin. Has properties that increases local capillary circulation in the skin, helping with oxygenation of tissues. This helps clear and repair the skin by removing metabolic waste products.
Cucumber Seed Oil Cucumis sativus

Is unusually high in phytosterols, compounds that strengthens the skin's barrier function, helping to maintain moisture levels and elasticity in the skin. High in omega-6 linoleic acid (65%) making it dynamic for eczema, and dermatitis. Helps rebuild a damaged barrier function, deeply nourishes and promotes the regeneration of the cells of the skin. It's vitamin E complex of both tocopherols and tocotrienols allows this oil to protect against free radical damage and revitalize skin damage due to sun and weather. It's vitamin C and antioxidants aid blood flow, reducing puffy, strained areas with regular use. It's anti-inflammatory phytosterols calm burns, blemishes and nourishes tissues. With it's high silica content is strengthening to skin providing structor and support. It's highly moisturizing and absorbed quickly.

Cucumber Hydrosol Cucumis sativus
A hydrosol is the condensate water coproduced during the steam – or hydro-distillion of plant material for aroma-therapeutic purposes. Cucumber is a cooling, diuretic, that helps with digestion, insomnia, and headache. Ayurveda states is supports liver health.
Coconut Oil Fractionated Coconut nucifera
Helps the skin grow and expand without tearing, helpful in preventing stretch marks. Deeply moisturizing, softening and cooling.
Roman Chamomile Essential Oil Chamaemelum nobile
Helps soothe digestive upset, such as indigestion, nausea or gas. Wound healing including cuts, ulcers and sores. Eases skin conditions like eczema or rashes. Anti-inflammation and pain relief for conditions such as back pain, neuralgia, and arthritis. Helps promote deep sleep and anxiety relief.
Vitamin E
Has skin-softening, anti-aging benefits and acts as a preservative
Arrow Root Powder Maranta arundinacea
Topical application of arrowroot powder has shown to improve one's skin texture, reduce excess oiliness and brings a natural glow to one's complexion due to its anti-irritant and anti-inflammatory qualities. Traditionally used to soothe and treat sunburns.